Showtime 2000 can play music from many different formats, including audio CD, MIDI files, MP3, MPG, MOV, and AVI. To do this, you must first turn on Showtime 2000's multimedia capabilities by clicking the Multimedia button. It has a picture of a keyboard, CD and speaker on it:

The Multimedia Player window comes up. It has four buttons on it:

To play a track from an audio CD, press the CD button. A set of CD control buttons appear ("Play", "Pause", "Stop", etc.). Use the "Prev" and "Next" control buttons to select the audio track you want to play.

To play a MIDI music file, press the MIDI button. You can then load in a music file in MID, MIDI or RMI format.

To play an audio music file, press the Audio button. You can then load in a music file in WAV (uncompressed waveform) or compressed format. The compressed formats you can use in Showtime 2000 depend on the codecs (media drivers) installed on your computer. Common codecs can play MP3, WMA, AIFF, M3U, AU, SND and other compressed formats.

To play an audio/video file, press the Video button. You can then load in a audio/video file. As with compressed audio, the audio/video formats you can use in Showtime 2000 depend on the codecs installed in your computer. Common codecs can play AVI, MPEG, ASF, WMV, MOV, QT and other audio/video formats.
Playing a particular format
Most Windows computers can play audio CD, MIDI music files, and uncompressed WAV files without trouble. To play other formats such as MP3 and AVI files, you must have the appropriate codecs on your system.
Fortunately, common codecs are supplied with Microsoft's Media Player software, and with other downloadable software such as Apple's QuickTime. In general, if you can play a particular format such as MP3 with one application, you should be able to play it in Showtime 2000 as well.
However, there are exceptions. For example, the popular program Winamp has its own internal player software. It is possible that you could successfully play an MP3 file in Winamp, but not in Showtime 2000.
If you have trouble playing a format
In general, if you have any trouble, the first thing you should do is download the latest version of Windows Media Player from Microsoft's website. (Microsoft changes web locations frequently, so you may have to do a search for "Media Player" from the Microsoft.com home page). Media Player will hopefully have a codec for the particular file type you want to play.
If not, the file type may be associated with another application (e.g., Apple Quick Time) which will install a Media Player-compatible codec. And remember, some applications (e.g., Winamp) may have their own internal codecs which cannot be used by Media Player, and thus by Showtime 2000.
To see what codecs you have installed, click on Start/ Settings/ ControlPanel/ Multimedia. The Multimedia Properties window comes up. Select the Devices tab. For audio codecs, click on the plus box next to the "Audio Compression Codecs" line; this lets you see all installed audio codecs: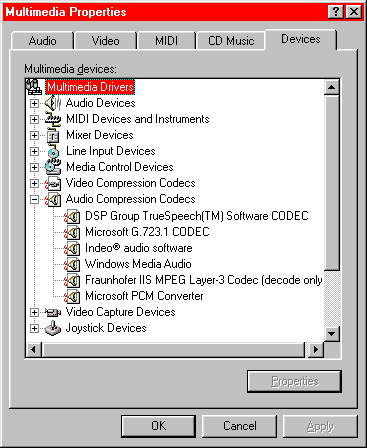 If you are having trouble playing MP3 files in Showtime, be sure that the "Fraunhofer IIS MPEG Layer-3 Codec" is available. If it is not, download and install Media Player, which includes the Fraunhofer codec.
Similarly, if you are having trouble playing other formats, check first to see if other applications can play them. If they can, see if there is an associated codec. Here are some codecs for audio/video applications. The ActiveMovie MCI driver in particular may control a number of audio/video formats.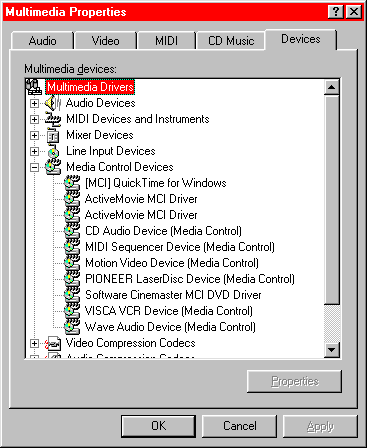 How Showtime 2000 works
Both Showtime 2000 and Microsoft Media Player use a deep layer of Windows called MCI, or Media Control Interface. If Media Player can play a format, it is because MCI can play it -- and it means that Showtime 2000 can play it.
For more information
More information on removing and installing codecs can be found from Microsoft's Knowledge Base, question # Q142731, which can be found through Microsoft's website or here. For additional background on codecs, MP3 and other topics, see the links listed in the "Related websites" section of the gray column at left.
Questions and answers
Are the new formats (MP3, AVI, etc.) synchronized with Showtime 2000's laser show output?

Yes. All formats played by Showtime 2000, including audio CD, MIDI, WAV, compressed audio, and audio/video, are continuously updated. Synchronization is accurate to within one millisecond (1/1000 sec.).

Can I overlay laser on the video part of an audio/video file?

Audio/video files play to the computer screen. You cannot normally output the video portion through a composite or S-video output -- so it cannot normally be sent to a standard video projector or VCR. Here are three ways to get around this:
Economy: Project the computer monitor image using an LCD- or DLP-type presentation projector. The video portion of the audio/video program can be made to fill the screen, or almost fill the screen. The unwanted portions could then be hidden using masks to cut off part of the projected image. The laser image is then scaled and calibrated so it overlays the projected video image.

Deluxe: This easy-to-use method was developed by Lasscan, using the Matrox Millennium G450 dual-monitor card. (Other dual-head cards from Matrox, and from manufacturers such as Appian, may work as well.) One monitor displays the Windows/Showtime screen; the other monitor displays the video portion of the audio/video file.
Lasscan uses the Millennium's "DualHead DVDMax" mode. Any MPEG file that starts playing, automatically is output full-screen to the second monitor. Click here for Matrox's Flash demo that includes DualHead DVDMax mode. The output to the second monitor can then go to an LCD- or DLP-type presentation projector, for laser overlay.

Traditional: The traditional video-laser synchronization technique uses video equipment with SMPTE timecode output, adding a SMPTE card to your LD2000 computer, and finally running Showtime 2000 using the "Play SMPTE" button. In this case, video does not come from the audio/video file but from a separate piece of video equipment that has SMPTE output.

When I play an audio/video file format, such as AVI, the video window disappears behind the various Showtime 2000 windows.

Unfortunately, Showtime 2000 cannot control the video window. Therefore, you have to move the video window yourself.
Before pressing the "Play" button, move the video window to one side, so that all or part of it is visible even if Showtime 2000 pops to the front. Once the show begins to play, you can click on the video window so it comes to the front, and you can also enlarge it, so it covers the Showtime 2000 windows.

When Pangolin sends out MP3 files, what quality level is used?

From time to time, Pangolin provides free laser shows that come with licensed music. The music can be obtained in two formats:
As audio tracks on the LD and LD2000 Installation CDs. These will be the highest quality possible.

As downloadable MP3 files. These will be recorded at 128kbps, stereo. This is the lowest "CD quality"; it is suitable for general performance. For highest quality, you should use the audio tracks on the installation CD. If you do not have an up-to-date installation CD, order one from Pangolin.

I want to put all my laser show music onto my hard drive, as MP3 files. How can I do this?

You need a program (or programs) that can "rip" audio from audio CDs, WAV files and other formats, and convert them into MP3. There are many such programs available. For links, see the "Related websites" section of the gray column at left.
Please note that for legal and moral reasons, you should already have bought the music you'll be converting. MP3 storage is a convenience, not an evasion. And, there are also issues related to playing music in public for laser shows. For more information, see the "Music Rights Notice" in the gray column on the Music for LD2000 shows page.

Can the older Showtime (QM32) program play these new formats?

We tried to have the older Showtime (QM32) access the new MCI compressed audio and audio/video formats, but this is not possible. Therefore, the older Showtime will continue to use the already-existing formats of audio CD, MIDI, and WAV.
Note: MP3-format music can easily be converted to a WAV file. Many commonly-available MP3 ripper/player programs such Winamp and MusicMatch may be able to do this. There are also specialized shareware converter programs such as "MP3 To Wave Converter" from Acoustica or the "ReMixer MP3 To WAV Converter" from ReMixer.