Musical synthesizers create and combine a variety of sounds, letting an accomplished musician play the sounds together, to make an enthralling sonic experience.
Like a synthesizer for laser shows, Pangolin's new LivePRO creates and combines beams, graphics and abstracts, allowing accomplished laserists to play all of these together, to make an enthralling visual experience.
LivePRO goes far beyond previous live-performance laser software. You can layer up to four beam and graphic cues at once. It's like going from playing one note at a time, to three notes of a chord plus a melody.
For example, beam effects can be playing on tracks 1 and 2, while mirror ball effects are playing on track 3 and graphic animations are playing on track 4. Or, have four separate graphic tracks fade in and out, layering and interacting at the same time on a single screen.
Just as a musical synthesizer has hundreds of preset sounds, LivePRO gives you the tremendous variety of over 1700 preset cues at a time. Each cue can contain an image, two separate effects, a color sequence, and a beam sequence -- or any combination.
And just like a musical synthesizer allows you to change the sound while you're playing, LivePRO allows you to modify a cue's size, position, rotation, scan rate, color, and other parameters live while you are playing the show.
When it's time to switch from one cue to another, you don't have to jump-cut. Smooth transitions include morphing, fading, zooming, etc. You can even create your own transition effects.
In addition to the four tracks, LivePRO also has two independent chasers. The Beam Chaser can target up to 64 different mirrors. The TTL Chaser is designed for optical tables with actuators and it can also control external effects such as rotating mirrors and fog machines. Both chasers let you control the speed, direction, pattern and other chase parameters.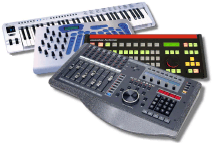 In live music, the beat is the key. You can listen to the beat and play LivePRO manually using the computer keyboard or one of the controllers shown here. Or you can allow LivePRO to run itself. Each group of 12 cues can have its own beat pattern. LivePRO can then detect the musical beats and automatically trigger cues according to the patterns that you define. LivePRO can also change the size, position, color and other parameters based on the amplitude and frequency content within the music. While these automatic functions are running, you can change additional parameters manually -- or just sit back and enjoy the show.
During the development of LivePRO, Pangolin worked very closely with well-known laserists who routinely produce live laser shows. Just read what they have to say about LivePRO:
"Looking back after BETA testing LivePRO during the past year, I just can't see how we did a decent laser show without it! Every show we do, we amaze people with its revolutionary ability to generate layers of effects in a virtual 3D laser realm, perfectly synchronized to the beat. It's so flexible, LivePRO can be configured to do anything!"
-- Glenn Turner, Lasercorp, Australia
"Finally my creativity is not limited by the software anymore. If you are into live laser shows, this is what you are looking for: Total Control."
-- Hugo Bunk, LaserImage BV, The Netherlands
Like a professional-level musical synthesizer, LivePRO isn't for everyone. Some people may just want to play pre-recorded laser shows using our award-winning Showtime program. Others may only need the basic single-track capabilities of our Live! program.
But if you're ready for full four-track control of laser visuals -- if you're ready for the world's most advance visual laser synthesizer -- then LivePRO is ready for you.
LivePRO is available free for LD2000 Professional users. If you have the Basic or Intro versions, you can still get LivePRO for only $695.
To order LivePRO, contact any Pangolin dealer.