This is Live!, the live performance screen built into Lasershow Designer 2000's award-winning Showtime program.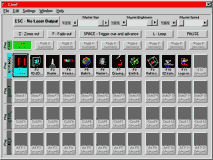 Live! is used for playing pre-set cues. You set up the cues in advance of your show, by simply loading a show and frames and then selecting the parts you want. To play the cues, you trigger them using the computer keyboard, the mouse or the Lasershow Performer console.
Forty-eight keys are shown on the Live! screen, arranged in 4 rows of 12 keys per row. In addition, there are nine banks, each with 48 keys, for a total of 432 cues available at one time.
Live! is very comprehensive, with all the controls you need for playing live music shows as well as triggering cues during corporate-type shows. Each cue button (key) can run one of the following cues:
Showtime shows or segments: Display an entire Showtime show, part of a show (e.g., module or scene), or any timespan within the show (example: from 00:00:01:00 to 00:02:30:29).

Frames and animations: Display a single frame or a sequence (animation). The sequence can simply run, can morph between two frames, or can morph between all selected frames. A Showtime effect (example: zoom in, rotate, change color) can be added to the cue, as well as number of iterations and looping on/off.

Text: Display non-moving or scrolling text. Select from 26 fonts. Set font width, height, color (including color cycling), perspective on/off, and scroll speed.
In addition, you can set up other actions for a cue:
Turn various TTL lines on or off, in order to control other devices.

Set what will happen when you release the button

Set up a custom size and position, used when the cue plays

Set the button's caption and icon (as seen in the main Live! screen)
There are many other features. For example, a button can be set to play once when pressed, or to loop until another button is pressed. There are buttons for stopping the cue early, either by instantly cutting it off, by fading it out, or by zooming it out.
You can change the overall size, brightness and even the scan speed -- while the cues are running. You can set up Live! for boot-up operation by inexperienced users, with passwords to prevent them from changing the show without your permission.